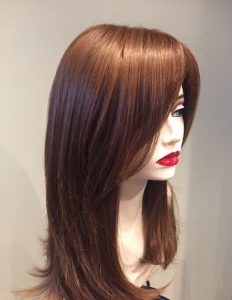 Some of the most popular questions that we receive are about insurance coverage. First, insurance coverage answers may vary from company to company, and the amount of coverage also can vary. The insured patient should have a benefit booklet, and details should be outlined under prosthetic devices. You may call your company direct, but do not say the word "wig" as it can have several meanings. Most importantly, it implies that it is cosmetic in nature. Hair loss stops being a cosmetic problem and becomes a medical issue when it interferes with your life. If a person does not want to go out because of hair loss then it directly interferes with their quality of life.
When speaking to your insurance company, you should say: "I am going to get a full, cranial hair prosthesis, and I have a prescription from my physician. Does my insurance policy cover it?"
As a patient, you will need a prescription from your doctor. It must be written for a full, cranial prosthesis on a standard prescription form. You will also need a paid receipt from the place of purchase.
Keep a copy of your prescription and a paid bill for tax purposes. Sales tax is not charged in most states for a medical prosthesis. Check with your accountant – there is a possibility for a full, cranial prosthesis to be written off (if a person itemizes deductions). When you file, do not include head ware or hats even if you wear them for the same reason.
Finally, if you lose your hair for medical reasons, it can no longer be considered a cosmetic issue.