Products & Solutions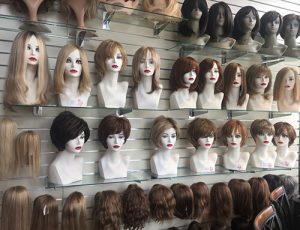 There are many options available today depending on the extent of hair loss. At Alternative Hair Solutions, we pride ourselves on attending continuing education and conferences that insure we are knowledgeable in the latest techniques and products in this ever evolving industry.
We have a broad selection of high quality curated products, globally sourced to provide our clients with what we consider to be "best in class."
Wigs – Human Hair
Offers the most natural look in terms of movement and feel! Double monofilament or 100% hand tied caps are extremely lightweight, comfortable and soft to the touch. These are especially important to those who experience scalp sensitivity with complete hair loss. "Gripper Caps"- for medical application have silicone around the hairline that adheres to the head with body heat and offers a secure, slip free fit without tape or glue. There are a wide variety of lengths and hair type/textures including Remy, Russian, Indonesian, European and Asian. All can be cut and most can be colored to achieve your individual style.
Custom wigs are also available.
Maintenance is required on human hair wigs as with all natural hair.
Wigs – Synthetics
These are styled and ready to wear! We have a full selection of lace fronts that allows for styling away from the face. They come in a large selection of colors including many shades of silver/grey. Highlights, shaded roots and ombre effects are also available. Synthetic wigs require little maintenance and are more cost effective than human hair.
There is also a combination of human hair/ synthetic wigs that offers the best characteristics of each fiber. They fall into a mid-tier price point between human and synthetic.
Hairpieces/Extensions – Daily wear or Extended Wear
Top pieces are a great option for localized hair loss. They are especially effective for loss at the part and crown. They blend seamlessly with existing hair and can be easily attached with clips for occasional wear or can also be semi/permanent using our invisible, patented method of non surgical attachment that is comfortable, safe and non detectable. You can sleep, exercise and even shower with these systems.
Recently, there has been an increasing amount of diagnosis in menopausal women of "Frontal Fibrosing Alopecia" This condition results in a recession of the front hairline. Lace front hairlines can be designed, customized and non surgically attached to accommodate this condition.
As enhancements, these 2 Minute Miracles add volume and style without weight. See our video for this easy solution.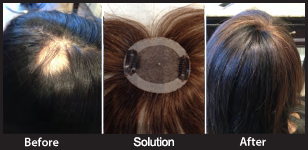 Alternative Accessories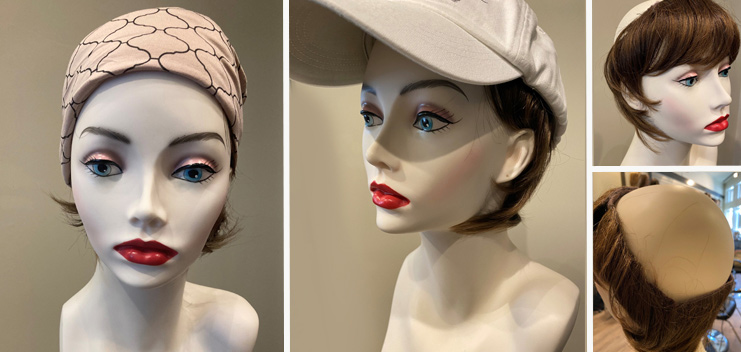 "Hat Hair" is the perfect accessory solution for grab and go style.
It is available in both short and long lengths.
The open crown allows it to sit perfectly under your favorite scarf or hat without adding bulk.
Headcovers are also available.
Halo's
Halo's require no glue or clips. Beautiful non-damaging hair extensions that are simple and quick to apply. A one-piece weft with an invisible wire that is put on like a "halo" You pull your own hair over, blend it in and instant fullness is added.
Clip-In Bangs
Clip in bangs are perfect to try before cutting bangs. All the fringe benefits without a commitment! They can be side swept or blunt cut, whatever suits you. Clips secure them into your hairline.
Eyebrow Solutions
If you have eyebrow hair loss, there are a number of options available to achieve the look of a full eyebrow. The best option depends on the amount of eyebrow loss you have as well as your budget and lifestyle. If you have a hair loss condition such as alopecia or full eyebrow hair loss due to cancer or chemotherapy treatments, our realistic human hair false eyebrows are the most natural looking option around. These alternative eyebrows are made of real human hair which is hand placed onto a flexible gel backing that allows your natural skin tone to show through. These  eyebrows go on in an instant with bond able glue and can be worn for a few days at a time. The look and feel of these beautiful alternative eyebrows are truly amazing.