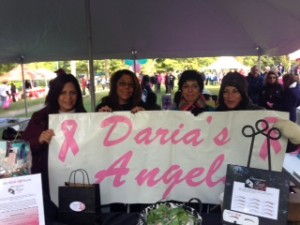 Life leads us down many paths and the impetus can be a frightening root cause. Alternative Hair Solutions in Greenwich, Conn was spawned when cancer reared it's ugly head once too many times. As a stylist, Diane D'Angelo's niche has always been women with hair challenges. Her total focus and commitment is to help ease the angst associated with medical hair .
loss.
In the upcoming cancer awareness months we are proud contributors/sponsors to the following events:
October: THE SUPPORT CONNECTION annual breast walk on October 2, 2016 http://www.firstgiving.com/fundraiser/daria-rocco-1/walk2016 to donate. Support Connection is an amazing organization located in Westchester County. The walk takes place at FDR Park Yorktown Heights, NY. Our team is Daria's Angels which was founded in 2003. We will meet at 9:30 am under the big oak tree. Just look for our team banner Daria's Angels
November: We will support THE LYMPHOMA RESEARCH FOUNDATION/THE PAUL FOUNDATION-Swirl NYC on November 10,2016 if you would like to join us you may go to: lymphoma.org/swirlNYC  or if you are unable to attend you may donate directly at http://www.pwsfoundation.org/
We are trying to do our part to help eradicate cancer in our lifetime.
Please join us in any way you can to support the heroic efforts of these wonderful organizations
Or call (203) 987 5948 ext 1 or visit www.althairsolutions.com to learn more.