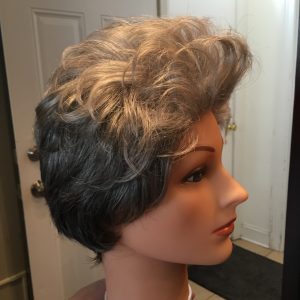 Why a private salon?
In this big, global world sometimes we can become overwhelmed with options. When faced with hair loss, there are many choices to make. If your goal is to find the least expensive option and you really don't need a professional, then the internet can serve you well. However, if you're looking for value and individualized attention, a private salon can provide all of that and more for you.
As a private salon we have years of knowledge, experience in the field, we consistently comb the globe for product, and pursue continuing education all to bring you the very best. We work hard to make sure the product that we offer you isn't something you'll find all over the internet. Pictures can be quite deceiving; what may look beautiful online oftentimes has been styled and adjusted by a professional.
Are wigs sold online less expensive? Some are, some are not. Continuity is not always a guarantee – I have spoken with clients who ordered the same product twice and have received completely different versions. There can be hidden costs such as restocking fees that can be as much as 20% of the purchase price if you need to return. Every wig needs some adjustments or styling which can require a work from a professional. The picture in this post features a synthetic hair wig taken directly out of a box; unless you are adept at styling, using the proper tools and understanding variables that can damage a wig (e.g., heat tolerance) it may become a challenge.
A brick and mortar, private salon excels in personalized customer service and devotes the time needed to deliver that will not be competitive with prices online. If you're someone who appreciates having a stylist that can work with you one-on-one to achieve your personalized look, then booking a consultation is your next step. Given the large amount of diversity in product, it can take more then one appointment to achieve the perfect fit or style.
Consider how much money you spend to maintain your hair. Now factor in hair cuts, coloring, and highlights over a year. You'll realize that many hair options will cost you about the same (or sometimes even a little less) than what you would normally spend on hair maintenance in a year.
Here is an excerpt on Yelp from just one of our clients::
"In her intimate salon, Ms. D'Angelo keeps everything very personal and very private. She works one-on-one with her clients, by appointment only. She has created a warm and welcoming environment where she focuses on what is best for her clients. What she does comes from her heart. It is clear that she is not driven by "selling," but rather by helping her clients through what is most likely the most difficult time of their lives. With her expertise in all types of hair, Ms. D'Angelo was able to help me understand all of my options and help me choose the best solution to meet my needs. We discussed the differences between real hair and synthetic. I was able to pick the style, color and cut to my complete satisfaction. Throughout, she was extremely patient and very creative. Her work is amazing and I can honestly say that she exceeded my expectations. "
Visit our website at www.althairsolutions.com or call (203) 987 – 5948 ext. 1 to learn more.