About Us
Diane D'Angelo is a Vidal Sassoon trained master stylist who has been involved in the beauty industry in Fairfield and Westchester counties for over 30 years. Her niche has always been women with hair challenges whether it was hair loss, thinning or baby fine hair. After witnessing two siblings journey through cancer and its challenges, she has first hand knowledge of the product and compassion needed to ease the angst. In 2013, she opened Alternative Hair Solutions, a studio in Byram, Connecticut that is devoted to providing remedies for temporary and permanent hair loss.
In a totally private environment, she offers her extensive training in hair replacement systems, as well as her expertise in a full line of wigs and hairpieces that can be custom fitted, colored, and cut to look natural and undetectable. She can match the texture, color and style you desire. There is a broad range of both synthetic and human hair products available in many different price ranges.
She also offers an invisible, patented method of non-surgical hair grafting. You can sleep, exercise, shower, swim and even run your fingers through this system without detection! It is a comfortable and safe option without chemicals or surgery.
Diane sees clients by appointment only in her private studio. Since many have faced the devastation of recent cancer diagnosis, we seek to eliminate the aesthetic stress associated with treatment by offering timely appointments and quick delivery of product so they can focus on the important business of healing.
We Care for the Client and Contribute to the Cause.
Alternative Hair Solutions in Greenwich, CT is committed to doing our part to help eradicate Cancer.
We periodically run a contribution campaign where a portion of proceeds from each wig sold is donated to the referring medical institution or The American Cancer Society upon presentation of a referral card.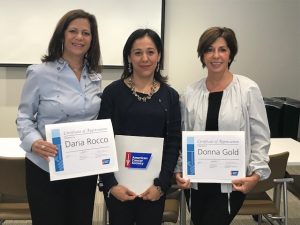 As certified volunteers to The American Cancer Society's Look Good Feel Better program, we participate monthly as beauty counselors at meetings in many of the hospitals in our area. Seasonally, we also donate wigs to this very worthy, uplifting program.
Annually, we participate as parking lot sponsors in The Support Connections Walk to raise money for those afflicted with Breast and Ovarian Cancer. Our team "Daria's Angels" has raised over $10,000. since its inception.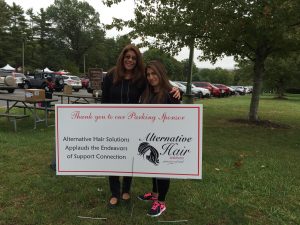 On November 10, 2016, we were a Bronze level sponsor at Swirl, NYC's "Erase Lymphoma" benefit. This event, sponsored by the Lymphoma Research Foundation/The Paul Foundation raises funds for the very underserved sector of Adolescents and Young Adults (AYA's) age 15-39. Proceeds from the event are used to provide expert programs and materials that address the unique medical challenges young adult lymphoma patients encounter during their diagnosis and treatment.
Most recently on June 7th 2018, we were invited to participate in Greenwich Hospital's Surf into Survival Event. As a resource we were able to celebrate those who were commemorating remission and help those just beginning their journey.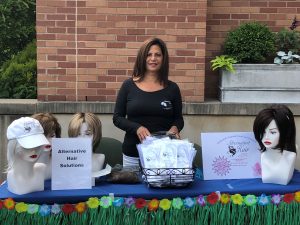 We have first-hand knowledge of the importance of raising the vital funds needed to find a cure, as two of us are survivors. We are hopeful that our continued participation will in some small way will help to make a difference in our lifetime.