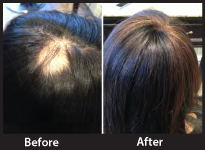 Hair loss can happen quite rapidly.
Why me? Is a very common reaction to hair loss. Whether hair loss is from stress, chemo, nutrition, over styling, medications, Androgenetic alopecia or an auto immune disease it really doesn't matter as much physiologically as the initial shock of why me? One day you can have a full head of hair and then the next you notice it is thinning quite rapidly. Knowing your options to bridge the gap is important to reduce the stress that is associated with hair loss.
My personal experience with hair loss was chemo driven however the emotional cycle was not very different then my female friends who have experienced both thinning and total hair loss for different reasons.
I found it helpful to know the human hair growth cycle and that more then 97% of female hair loss is temporary and not permanent. Every one of us both male and female are losing hair every day. One look at our hair growth cycle and we understand that every hair is at a different stage of the growth cycle. Sometimes we simply need to bridge the gap of female hair loss. Wigs and hair pieces are great options.
Anagen (Growing Phase) lasts 2 – 7 years
Catagen (Regression Phase) hair follicle shrinks. Lasts approx 30 days
Exogen (Shedding Phase) resting hair becomes terminal and gradually loosened. Lasts approx 10 Days
Telogen (Resting Phase) Lasts  approx 3 months
If hair enters the resting phase too early, excess shedding and noticeable thinning of hair can occur. Over time the length of the Anagen stage decreases. Hair can become weaker and thinner after each cycle. This is just one of the reasons it is important to have a diet that is rich in specific nutrients to maintain normal, healthy hair growth.
Supplements like saw palmetto can be beneficial to help block DHT.  Having your scalp cleansed with a DHT blocker shampoo is one more tool in you hair loss tool belt. You should see a dermatologist to help you discern if either of these may be helpful in your individual situation.
You may find comfort in knowing that there are many solutions to bridge the gap of your temporary or permanent hair loss. There are non surgical options that are not only painless but they offer instant gratification with a lush, beautiful head of hair that can be either bonded or not. Come visit our private salon to see which option is best for you.
Call (203) 987 – 5948 ext 1 or visit www.althairsolutions.com