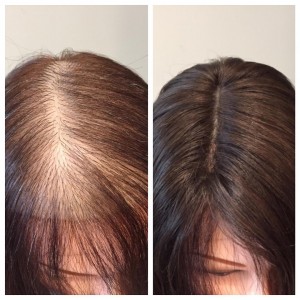 According to the American Academy of Dermatology, the average person loses anywhere from 50 to 100 strands of hair each day. But hair loss becomes noticeable when the rate of shedding exceeds the rate of re growth or when re growth is thinner than previous.
Although anyone can experience hair loss, women actually make up 40% of American hair loss sufferers — 1 in 4 women in the U.S. (source: American Hair Loss Association). It may not be uncommon it certainly can become upsetting. If you have not experienced hair loss first-hand, it can be difficult to grasp the emotional toll it can take. For many of us, hair can be a surprisingly important part of our identity and for women, our sense of femininity. Although hair loss it can be equally upsetting for men.
Alopecia is the medical term for excessive hair loss. It can be caused by anything from chemotherapy and radiation therapy side effects to stress, age, genetics, poor nutrition and autoimmune disorders. Androgenetic alopecia is genetic and causes 95% of hair loss — often diffuse thinning for women and pattern balding for men. Alopecia areata, and various other types of less common alopecia, are autoimmune disorders resulting in hair loss ranging from small patches to complete hair loss which can be temporary or permanent.
Stress is often a big contributor to hair loss. One of the things we have found with our clients is that once they come in for a private appointment to learn the many options available the stress can become a little less than before. That is important on so many levels for good health.
Knowing your options in a compassionate, private setting, where we will work with you one on one to help you through this time can bring a sense of relief for many. If you or a loved one are experiencing hair loss we can help you learn your options.
Call us today at 203 987 5948 ext 1 or visit www.althairsolutions.com to learn more.