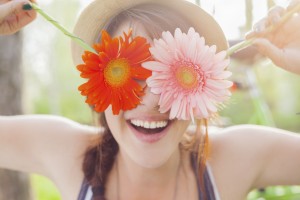 Facts to consider when wearing hair and maintaining an active lifestyle.
We have often been asked "what wigs will work best for a person who has an active lifestyle"? It is important that you be aware of the characteristics of different types of wigs so that you can make the appropriate choice. Wigs can be an investment  and you need them to serve you well and last. Wigs do deteriorate over time.  You need a breathable wig for sports. If you shampoo it every day because you are active, the life expectancy will be shortened. It is realistic that by time a human hair wig is 9 months old it will need to be repaired or replaced.
For Swimming
A human hair wig is porous so it isn't recommended to swim in.  Not to mention that chlorine and salt are very damaging. As is true with our natural hair, sun oxidizes and fades the color. You can swim in a full silicone cap, but human hair is four times the weight of synthetic hair so the weight of water alone can pull a silicone cap away from the head. If you submerge your head a wig will stretch out if its wet and taut on your head. Your best bet is an inexpensive synthetic piece.
Vacuum Wigs are made with 100% medical grade silicone. They have the ability to pass water vapor through them so they are breathable. Do consider that sweat does accumulate inside the cap if worn for athletic activities so be sure to clean the inside of the cap daily. Use a little mild detergent or wet wipes for hygiene to do so.
If you are wearing a lace front, use waterproof adhesive along the front so it doesn't lift off when sweating.
If your hair is thinning and you augment that with a topper, you can swim in a topper but again it should be synthetic. Just be sure that if you go underwater, you must secure the topper so that the clips will not pull on your delicate hair. Best hint is to put it on with a wide hairband holding it in place or put it into a messy bun on top of your head.
visit www.althairsolutions.com or call us today (203) 987-5948 ext 1 for more information.