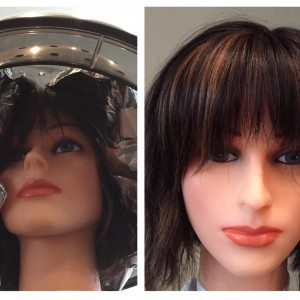 In this big global world of options, there are times when small, intimate and private just make better sense.  After all I am talking about your hair. When you purchase hair off the internet you need to consider who will service you? There are times when you may need just a few adjustments to a wig or hair piece to customize it for you.
Having a wig that feels too loose will create a feeling of insecurity. When hair fits right you walk differently. You own it. Your confidence exudes. In most cases the only one who can tell it is not your own hair is the person you tell. Total privacy for me was important.
Maybe you want to tweak the color or add a slight bang. Most stylists are not prepared to cut hair that is not rooted into a scalp.  It is very different when it is attached to a mannequin.  You should realize that unlike your own hair it will not grow back. Any changes are permanent changes and many stylists are just not willing to take that risk. Most salons will not service hair that was not purchased through them.
When you shop on the internet for hair it is important to know what the restocking fees are.  Many times it can be found in the small print.  Hair is very personal and varies from manufacturer to manufacturer much like clothing; you may be a size 8 in one designer and a size 4 in another.  If you order a few different sizes you need to first ask what will that cost you to return the ones that are not the right fit.
Every scalp varies. The amount of hair you have underneath verses a bald head makes the fit differ.  Someone who is first losing hair or has hair first growing back will usually benefit by working with a salon whose primary specialty is wigs and pieces.
The internet to me is an awesome resource for information. As a former wig wearer I was unwilling to leave the unknown variables to the World Wide Web. I needed someone who knew me, my condition and what stage of re growth I was at so that I could transition into my own hair growing back.
If you are the type of person who appreciates the personalized service that can come from a private salon then I encourage you to call our salon and book a complimentary consultation to see if we are a right fit for you.
Visit us at www.althairsolutions.com or call 203 987 5948 and speak with our Director of Client Services at ext 1.