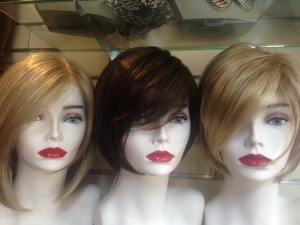 WIG SHOPPING – Doesn't have to be devastating
Thrust into a sisterhood that I never wanted to belong to, the thought of losing my hair was equally as devastating as those words "you've got cancer"! My hair was a testament to my femininity and my sexuality. It was no consolation when flip comments were made that" it will grow back". I know it was a genuine attempt to minimize the devastation, however, it was futile.
I am a confident women who started the journey demoralized and feeling bad about myself worried that it would be apparent to the world that I was sick.  Then I got a grip on the situation and I realized  that instead of wallowing in self pity, this could be my opportunity to try looks and colors that I had been curious about but was too afraid to try. I no longer had to commit to chopping my hair into those pixies I loved.  If I tried a pixie and I didn't like it, it only took one fast swipe to change it up.
I had the options of  synthetic  hair which would insure  I'd always look good even when the humidity was at its highest or human hair ( I defy anyone to identify as not being my own) or a combination of both that would give me the best attributes of each.
I created a pinterest board with pictures of me on  what I considered  to be  my best  hair days. I surrounded those pictures with images of everything that even remotely appealed to me because now was my moment of opportunity. Wig shopping does not have to be devastating!
Looking in the rear view mirror now, I can say with certainty that wig shopping doesn't have to be devastating! It can transform how you feel about yourself! Shopping for it can be distracting fun, thanks to the terrific options available today.
Shopping for a wig is just that… shopping. Turns out I bought 4 different wigs to have options for different times and moods.
I now I fancy myself somewhat of a pro. My tips to anyone buying wigs are to get a comfortable cap. That is what the hair is attached to.  Do not buy a wig from someone who does not measure your head. Find a stylist who is familiar with fitting a wig as there are 5 sets of measurements to a perfect fit. When the wig fits right, you know it immediately, just like when you find that perfect pair of pants!. You feel confident and secure.  NEVER buy a wig that is too tight. It will never look natural or feel good. Most wigs are adjustable to make them bigger or smaller.  If you are getting a lace front that allows you to wear your hair off your face, match the scalp color to your skin tone and once you have bought it have the lace cut in a zig zag pattern close to your hairline.
A personal tip to anyone buying wigs is if you get itchy, a rat tail comb slid UNDER your wig feels amazing! Just be sure it is never used on top of the cap so as not to damage a hand tied cap.
Visit www.althairsolutions.com to book a complimentary consultation or call 203 987 5948