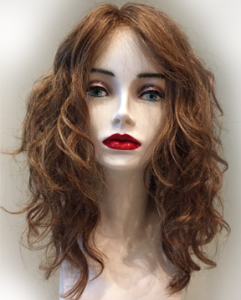 I've always spent an inordinate amount of time seeking follicular perfection! Looking effortless was an exhausting effort. I was challenged — no, rather, petrified — when it came to the simple act of handling a blow dryer and a brush.
Over and over I tried to instill that being "overtressed" adds more years than wrinkles, layers frame the face, hair should have body, hair that is washed too often can be damaged, and that I should resist heated styling tools. After all, well-maintained hair signifies health, youth, and professional credibility. From the Marie Claire magazine, "there is age, and there is hair age," and I never wanted anyone to guess my age via my hair. I was conscious of having age-appropriate hair while also being trendy — a conundrum of sorts. Why was hair judged so harshly??
After being blindsided by cancer and the impending hair loss, I was thrust unwillingly into the hair o sphere that is wigs and hairpieces. Not having the courage to embrace "bald is beautiful" I had to venture into an arena that I previously thought was for celebrities, definitely not me. As I did my research, I found that wig and hairpiece revenue in the US is quickly heading toward the billion dollar marker. NY Magazine proclaimed "On any given day, New Yorkers encounter as many wigs on their morning commute as fake Goyyard bags"
Thanks to Lady Gaga and Nicki Minaj, wigs are not only accepted, they are touted.
I had to convince myself to embrace it, not to hide or deny it. As a fashion executive for 30+ years, I was used to taking risks. Why should this be any different? Each month as I perused the fashion magazines, I marveled over Anna Wintour's bob, or wondered if I could possibly rock a pixie like Halle Berry. I got to try them all, something that I would have never done voluntarily. I now subscribe to the mantra that variety is a testament to my creativity.
Wigs today are virtually undetectable thanks to the great strides made in their quality and construction. There's hair that blows in all directions, real parts that reveal scalp even if you have hair underneath, lace fronts that allow you to wear hair off your face and not hide behind bangs, the botox alternative. There's highlights, lowlights — you name it.
Gone are the days of me risking my life in a nor'easter to get to a pre-dawn blow dry appointment before work, or spending the equivalent of a night at the Four Seasons to pay for a mediocre hairdo while on vacation. I will gladly visit rain forests or golf in Scotland because I know at the end of the day I won't resemble a chia pet while pretending to have a good time.
Instead, I now say hello to sleeping in, and indulge my desire to find out if blondes have more fun. Wigs are my opportunity not only to change things up, but also to finally get the follicular perfection I was always longing for.
The most important attribute to pulling off a wig is really just this: ATTITUDE.
Contact us at Alternative Hair Solutions 203 987 5948