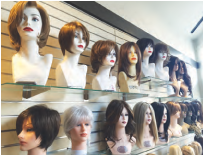 There are so many options in hair today. Choosing what is best for you can be narrowed down by first deciding your face shape. Here are a few ideas for flattering your face shape with Alternative Hair options. These tips will also work for your own hair.
Heart: Think Reese Witherspoon, Halle Berry or Scarlette Johansson
The HEART Shape Face is characterized by a wide forehead and a narrower chin. Bring some hair onto the forehead to disguise its width. Keep hair close to the head at the eyes but make it slightly full around the jaw, and below and in front of the earlobes.
Square: Think Demi Moore, Minka Kelly or Natalie Portman
The SQUARE Shape Face is characterized by a wide hairline and jaw. Square shaped faces need height on top and narrowness at the sides. Comb the hair off the forehead to add height to the face. Curly texture and wisps of hair around the face break the wide, straight lines common to the square face.
Round: Think Paula Deen, Penelope Cruz or Cameron Diaz
The ROUND Shape Face is characterized by a wide hairline and fullness below the cheekbones. Sometimes extra weight can make face appear round and the neck may appear short. These faces look very good with a geometric or linear style. Add height, when possible, and long, wispy side areas to make the cheeks look narrow. Comb hair close to the head on the side and at the nape.
Oval: Think Kate Middleton, Tina Fey or Julianne Moore
The OVAL Shape Face is longer than wide, with a jaw that's narrower than the cheekbones. Because the oval shaped face has no dominant areas and is so proportional, this face looks good with just about any hairstyle, length or texture. If you were born with an oval face, consider yourself a lucky girl. This is probably the most normal face shape there is, because it has perfect proportions—it's not too square or too round allowing you a multitude of options for hairstyles.
If you can't decide what shape  best describes your face then setting up a private wig/hairpiece consultation will help you determine what styles can work best for you. Contact (203)987 5948  ext 1 or visit www.althairsolutions.com and fill out a consultation questionnaire.